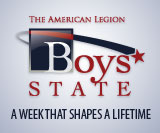 Boys State.....

American Legion Boys State is among the most respected and selective educational programs of government instruction for U.S. high-school students. A participatory program in which students become part of the operation of local, county and state government, Boys State was founded in 1935 to counter the socialism-inspired Young Pioneer Camps. The program was the idea

At Boys State, participants learn the rights, privileges and responsibilities of franchised citizens. The training is objective and centers on the structure of city, county and state governments. Operated by students elected to various offices, Boys State activities include legislative sessions, court proceedings, law-enforcement presentations, assemblies, bands, choruses and recreational programs.

Only males who have successfully completed their junior year of high school and who have at least one more semester remaining are considered. Previous participants of a Boys State competition are not allowed to attend a second session. Only those who illustrate leadership, character, scholarship, loyalty and service in their schools and community should be considered. Merit and ability are the basis for evaluation during the actual citizens selection process.

Boys Nation....

Two representatives from each of the 49 Boys States represent their state at Boys Nation in Washington, where the young leaders receive an education on the structure and function of federal government.

At the event, each delegate acts as a senator from his Boys State. The young lawmakers caucus at the beginning of the session, then organize into committees and conduct hearings on bills submitted by program delegates.

Senators learn the proper method of handling bills, according to U.S. Senate rules. Participation in the political process is emphasized throughout the week, including organization of party conventions and nominating and electing a president and vice president.

The week of government training also includes lectures, forums and visits to federal agencies, institutions, memorials and historical sites. On Capitol Hill, Boys Nation senators meet with elected officials from their home states.

Field trips include Arlington National Cemetery, the National Mall, the Supreme Court, the Department of State, the Capitol and the White House






The first American Legion Auxiliary Girls Nation was held August 9-14, 1947, with 82 girls and 41 states represented and has been going strong ever since! In order to attend this unique "hands on" Federal Government training session, one must first have attended a Girls State session and been selected by that state to represent them at Girls Nation. The Girls Nation "senators" are divided into two political "parties". The parties do not reflect the two major political parties in today's system, but allow citizens to gain a special knowledge of how the system works.
The Girls Nation program is funded by the national organization of the Auxiliary, with some support from each participating state. Little or no expense is required of the "senator" or her family.

The Auxiliary has been recognized many times by Freedoms Foundation at Valley Forge, Pennsylvania and the National Association of Secondary School Principals (NASSP) for outstanding Girls State and Girls Nation Programs. They have also been recognized through the media in "Career World" magazine, WAM! Children's Television Network (Encore Media Corporation) and many newspapers.

Program Goals:

to develop leadership and pride in American citizens
to educate participants about our system of government
to instill in participants a greater understanding of American traditions
to stimulate a desire to maintain our government processes
The American Legion Auxiliary believes that training our youth about the basic ideals and principles of our system of government will help to ensure the survival of our republic. Through this highly effective citizenship training program, Auxiliary members and other expert volunteers teach the youth of our nation to understand, comprehend, and appreciate their roles as United States citizens.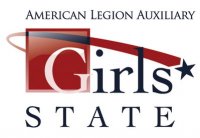 For more information about Girls State, please contact Lola Hanson.

507 440 2476
For more information about
Boy's State, please contact

Mike Hansen 507 402 1752​​​